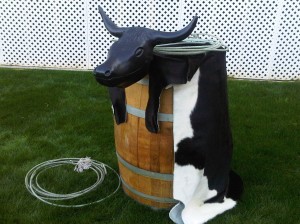 Calf Roping Game Rental
Western themed party ideas and party rentals for all kinds of gatherings and special events.
Our calf roping games are excellent looking, creating both a fun atmosphere and offering guests an exciting challenge to enjoy!
One of the most exciting parts of the rodeo can be calf roping, and having great roping skills can be the true success of any cowboy or cow girl!  Our fun themed roping activity gives people a chance to practice up on their lasso skills in style.  Traditionally we have provided our roping games in a couple of formats, using a hay bale as the decor piece- and also using wooden barrels with genuine cow skin draped over them.  Both make a great visual impact and can be utilized for events of all shapes and sizes.  We have multiple units available to serve larger crowds, can provide fun attendants to staff the attractions, and are able to offer the best customer service from start to finish.
When it comes time to plan your next event, we are here with all the western themed fun and entertainment options.  Our professional staff and commitment to a successful event are two things that you can find no where else!